MaineDelivery has a proven track record with many name brands and exceptional results. We provide reliable, on-time delivery of large parcels to homes and businesses throughout Maine.
In today's digital age, fast fulfillment and on-time delivery isn't just a nice thing to have. It's what customers expect every time. Our suite of final mile services ensures that your customer's delivery experience will be an exceptional one.
Our Services Include:
Large parcel receiving and delivery
Product tracking 24/7
Customer service support, scheduling, and delivery verification with EDI/API connectivity
Home delivery, installation, and placement
Threshold and room of choice home delivery
White glove delivery
Un-crating and debris removal
New, well-maintained equipment
Uniformed crews that undergo background checks and drug screening
Monitored short and long-term climate-controlled storage
Cross-docking and trans-loading
On-going long-term project management including receiving, warehousing, and flexible delivery options
We offer residential and commercial services that are reliable and affordable. We know Maine. When we deliver to your customer's location, your brand is our #1 priority. With us, your expectations are always exceeded.
Our drivers are uniformed professionals. Our equipment and vehicles are kept in great condition. We are committed to making sure the final phase of your customer's buying experience is an exceptional one.
Our History
We started in 1970 with a single moving truck and a small crew. We have since grown to a fleet of about 75 trucks, nearly 500,000 square feet of warehouse space, and 140 motivated, customer service-oriented team members.
1970 – Established as a local family business serving Central, Eastern, and Northern Maine. Central Maine Moving & Storage provides Maine with quality service for individual, corporate, industrial, and government relocation.

1978 – Expanded services by becoming an award-winning agent for North American Van Lines, providing worldwide, award-winning moving services, and forming Consolidated Warehouse (now operated under Lynch Logistics) to serve our growing storage customers.

1986 – Lynch Logistics, full-truckload freight transportation, and warehousing business was created under the same ownership to increase capacity for Maine's industrial sector, primarily for the pulp and paper industry.

Lynch Logistics operates a dry van and flatbed trucking service east of the Mississippi River and in the Maritimes of Canada. We also offered integrated warehousing and distribution services for storage-in-transit and cross-docking.
1995 – Based on increased demand for secure file storage, created Records Management Center (RMC) to handle specialized confidential file storage and information management activities for the healthcare sector. RMC quickly expanded into paper shredding, media destruction, document scanning, and dedicated courier services for many industries and government organizations throughout Maine and New Hampshire.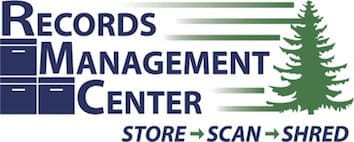 2000's to Today – Continued fleet and warehouse growth among all divisions. We opened a facility in Auburn, Maine, to provide increased Central and Southern Maine coverage. It includes five full-time personnel, inside and outside storage, cross-docking, rail siding, and centralized baling for our mobile shredding fleet.
2016 – Records Management Center and ShredSafe, LLC announce the acquisition of Shredding On Site (SOS) of Waterville, Maine, effective October 1, 2016, significantly increasing the capacity and scope of our secure destruction operations.
2019 – Records Management Center and ShredSafe, LLC announce the acquisition of Aroostook Shredding of Presque Isle, Maine, effective May 1, 2019, expanding coverage of secure destruction operations in Northern Maine.
2019 – MaineDelivery is created as an operating division out of Central Maine Moving & Storage to provide specialized large parcel delivery services throughout Central, Eastern, and Northern Maine for national e-commerce and third-party logistics providers. MaineDelivery has quickly expanded to successfully handle many service levels, product types, technology requirements, and thousands of satisfied customers.
What They Say About MaineDelivery
"We ordered two large items. MaineDelivery delivered our new sofa and chair on the day and the time we scheduled. They were polite, organized, and placed everything exactly where we wanted. They even moved our old things to the garage. It was that easy." – Nancy G., Rockport, ME